« Blog写作一周年 | Blog首页 | 靓颖单曲--《To be loved》发布 »
Oracle Metalink is rebuild
17日收到Oracle的通知邮件,Metalink的用户界面已经重新设计,登陆后发现的确有了重大变化,Oracle使用HTMLDB技术对Metalink进行了重构: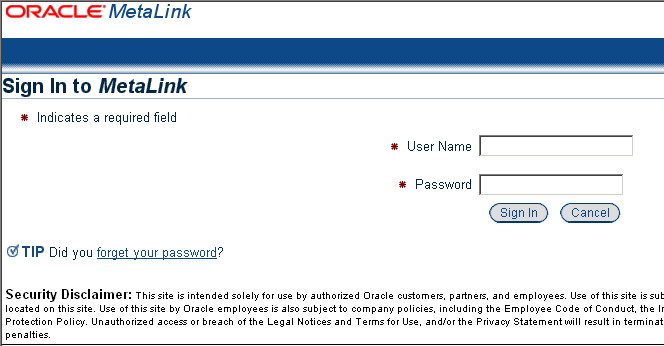 这一次Oracle选择了蓝色的主色,字体等设计也大为改观。Oracle提示的变化还有:
The new MetaLink user interface will be released this weekend, December 17, 2005. The most significant improvements that you will notice are:

-----Side Bar Navigation will be replaced with a Tab/Sub-tab Hierarchy

This has been one of the most highly customer-requested enhancements which will drastically Improve and simplify navigation.
When viewing articles, this change will significantly expand the current viewing area of all articles.

-----Improved Quick Search capabilities

The Quick Search options will appear at the top of every screen and will provide more direct access to knowledge repositories and other data sources. By selecting from one of nine search filters you can focus your quick search like never before.
Search results can include hosted or assisted links pointing you to closely related articles and tools.

-----Sign out capability

You will no longer need to close your browser when you need to log out of MetaLink, providing increased security as well as convenience.

-----References to TAR are changed to Service Request or SR

The TAR acronym has been replaced with Service Request or SR. Please be aware that this is a name change only and was made to more fully align MetaLink with industry and Oracle standards. Associated functionality has not been changed.


历史上的今天...
>> 2012-12-19文章:
2011-12-19文章:
2008-12-19文章:
2007-12-19文章:
2006-12-19文章:
2004-12-19文章:


By eygle on 2005-12-19 09:28 | Comments (9) | OraNews | 586 |